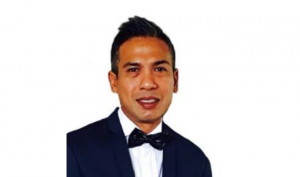 CEO,
Harry's International Pte. Ltd.
Nasen Thiagarajan's first food and beverage (F&B) experience was as a "bar-back" for a S$900 paycheck in 1991. Fast forward 24 years, the bar industry veteran has spearheaded almost 20 openings and is now the CEO of a S$35 million revenue size company, Harry's International.
Many of Singapore's best-known F&B names are stamped with Mr. Thiagarajan's imprint. One of them was formed when he was Operating Consultant in 2006 to the public listed group, Lifebrandz. Back then, the iconic beach party destination, Café del Mar, opened with huge fanfare and great interest from the media and consumers. It was the world's largest Café del Mar, a cool concept from Ibiza and a beach club to see and be seen at.
Mr. Thiagarajan was also key to the nightlife and dining scene in Melbourne and Shanghai at the turn of the century. In 1999 in Melbourne, he led the launch of a 20,000-square feet club, SALT, after which he consulted other F&B businesses there. Six years on, he left for Shanghai to revamp a struggling international supper club concept, Le Fabrique – in just one year, he made it profitable and assisted the shareholders in the successful sale of the club.
Having made a name on the international scene, the go-getter came back to play instrumental roles in the operations, mergers and acquisitions of well-known local F&B groups. The Big Idea, which merged with Marmalade Pantry, formed one of the largest and most formidable local groups with unique, creative dining concepts. Mr. Thiagarajan ran it for seven years before "Kitchen Language", the F&B arm of real estate company, Far East Organization, acquired it. He continued to serve as Chief Operating Officer for the S$60 million revenue size F&B group until late 2016.
The 45-year-old industry expert is sharp and his concise strategies have made declining businesses profitable again. In 2016, he became the Chief Executive Officer (CEO) of Harry's, Singapore's largest chain of bar and dining establishments with 21 establishments. During this year, he launched five Harry's as the group won the distinguished Outstanding Brands Award 2016 in the Bar and Dining Category of Asia's Enterprise BRAND awards. In 2019, Harry's was awarded the Influential Top Brand 2019 – Bar and Dining category at the 2019 Asia CEO Summit.
While focused on improving profitability, Nasen is also working on regional expansion plans within Asia. Harry's currently has 4 stores in India and 3 stores in Myanmar today.
His goal for the group may sound ambitious, but his proven record shows that he is right on track "to lead Harry's International to double their revenue size to S$70 million within the next five years".
On a personal capacity, Nasen contributes to the business industry as an Executive Committee Member (Vice-President) of The Singapore Nightlife Business Association (SNBA). In 2020, he will be enrolled as a Board Member of The Singapore River Organization (SRO).